Je vous avais présenté il y a quelques temps l'installation d'un NAS fait maison, tournant sous Freenas, afin de remplacer mon Synology qui ne me suffisait plus en terme de place.
Ce système convenait plutot bien pour les besoins définis à la base, qui étaient les mêmes que ceux fournis par le Synology: héberger des sites internet, enregistrer des caméras de surveillance, télécharger des bittorents, faire office de serveur FTP, et diffuser différents médias (vidéo, musique, photo) vers d'autres appareils comme une PS3 par exemple. Mais au fil de mes lectures sur le net, j'ai découvert Windows Home Server, un système Microsoft, comme vous l'aurez compris, concu pour gérer un serveur familial.
J'ai commencé par le tester sur une petite machine, pour finalement l'adopter en remplacement de Freenas.  Freenas avait pour lui le fait d'être gratuit, en revanche, la configuration "avancée" était quelque peu compliquée, comme vous avez pu vous en rendre compte via mon article expliquant l'installation d'une base MySQL sur Freenas, sans compter la gestion des droits d'utilisateurs, propre aux systèmes Linux… Windows Home Server (que nous réduirons à WHS pour plus de facilité), est payant, mais est très convivial, et vraiment facile à utiliser. Un serveur vraiment pensé pour les particuliers !
I. Le matériel.
Note: Comme WHS vient en remplacement de mon Freenas, j'ai bien sûr réutilisé le même matériel. Mais si j'avais dû acheter du nouveau matériel, la réflexion aurait été la même.
Une question importante était la taille, mon but étant de faire un boitier suffisamment petit pour tenir dans mon armoire de brassage. J'ai alors étudié les possibilités avec une carte mini Itx: minuscule, ne consomme pas beaucoup, idéale pour un petit serveur ! Sauf que trop limitée pour accueillir suffisamment de disques durs. En effet, il n'y a souvent qu'un port d'extension sur ce type de carte, à moins d'acheter une carte  très couteuse pouvant accueillir 8 disques durs, on ne pourra pas y brancher facilement plusieurs disques durs.
Son opposée, le format ATX, elle, n'était pas envisageable, cela nécessitant obligatoirement un boitier volumineux. J'ai donc finalement opté pour une carte au format micro ATX. Ce serveur va ainsi s'appuyer sur une carte mère micro ATX Gigabyte GA-G31M-ES2L (40€) et un processeur Intel Pentium E5300 (60€), équipée de 2 Go de Ram PC5300 (récupérée dans mes tiroirs). Une petite configuration pour une centaine d'Euros, largement suffisante pour ce que je veux faire. J'y ai également ajouté deux petites cartes PCI m'ajoutant 6 nouveaux ports SATA (à 18€ la carte), ce qui me permettra en tout d'y brancher 10 disques durs (avec la possibilité d'en ajouter encore par la suite, le port PCI express étant encore disponible).
J'ai ensuite cherché un boitier à la fois compact, et disposant de suffisamment d'espace pour y loger plusieurs disques durs. Là le choix n'a pas été facile. Mais je me suis fait "plaisir" avec le boitier M-CUBE B289CA de chez Maxinpower. Assez compact (L 28 x P 38 x H 23), bien fini, et disposant d'un petit écran digital affichant la température d'une sonde intérieure, qu'on peut disposer où on souhaite (CPU, HDD, etc…). Génial pour surveiller la température de son boitier en un coup d'oeil :D Par contre, 75€ le boitier…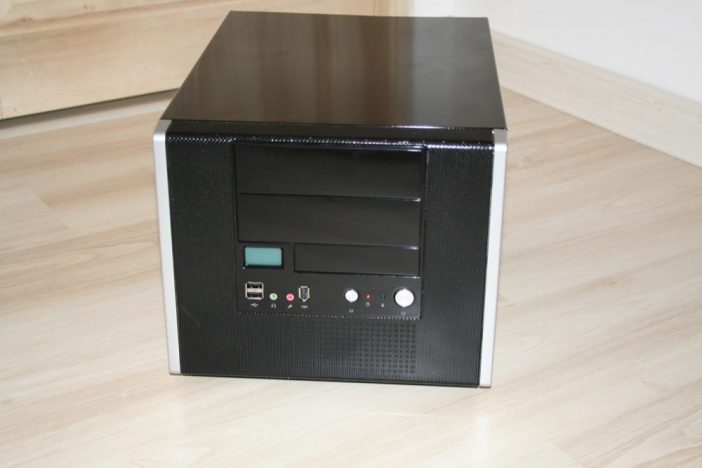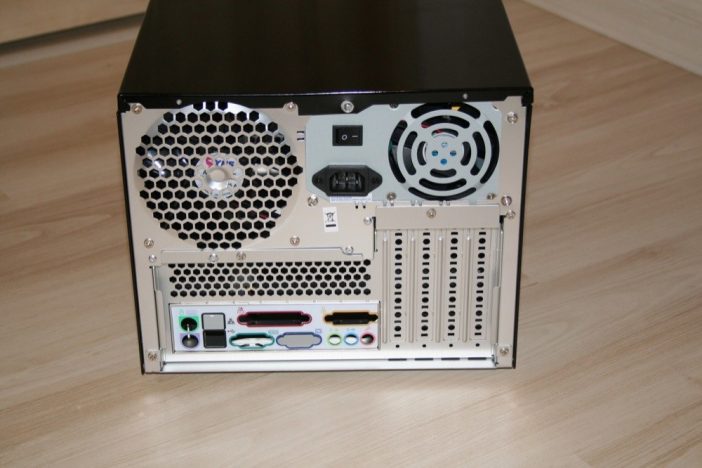 Ce boitier dispose à la base de deux emplacements 5″ 1/4, et 3 emplacements 3″ 1/2. Soit 5 emplacements utilisables pour les disques durs, ce boitier n'ayant pour moi pas besoin de lecteur CD (enfin, juste une fois au démarrage pour l'installation de WHS).
Mais il existe des petits accessoires sympas, comme cette "cage" qui se loge dans deux emplacement 5″ 1/4 et qui permet d'accueillir 3 disques durs, qui sont de surcroit bien refroidis grace à un ventilateur intégré (25€):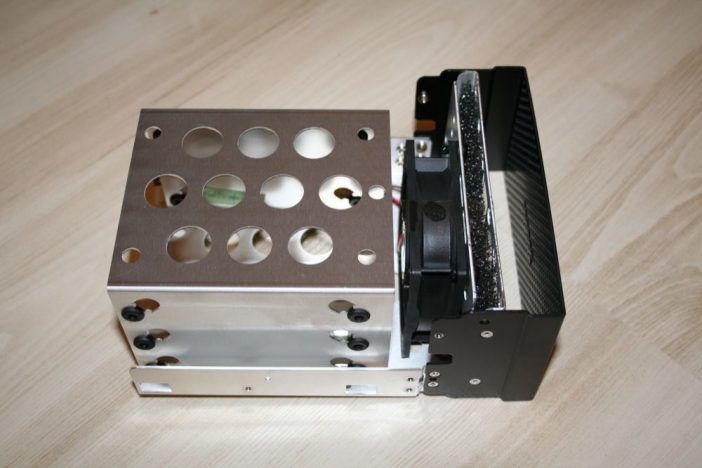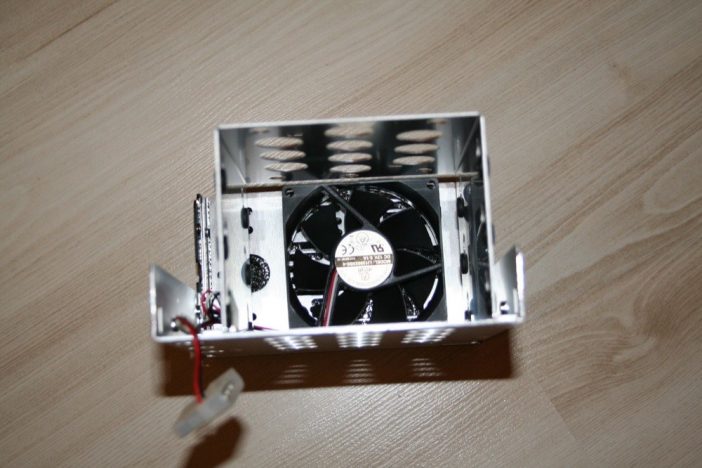 Ce qui nous permet finalement de loger 6 disques durs. Enfin, comme il reste encore de l'espace à l'avant du boitier, il sera possible de bricoler une autre cage pour y loger, je pense, 4 autres disques.
Ce qui nous fera en tout 10 disques durs, dont 4 branchés sur la carte mère, et 6 qui seront branchés sur les deux cartes d'extension (rendues possible grace à l'utilisation d'une Carte Micro ATX).
Il suffit de libérer les deux emplacements 5″ 1/4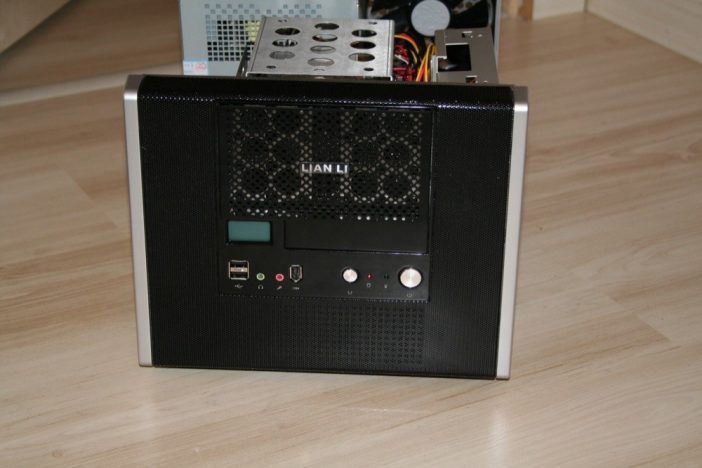 Et d'y insérer la cage.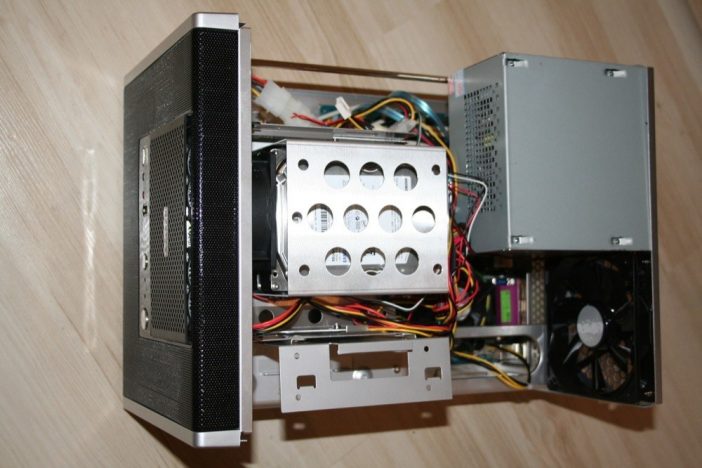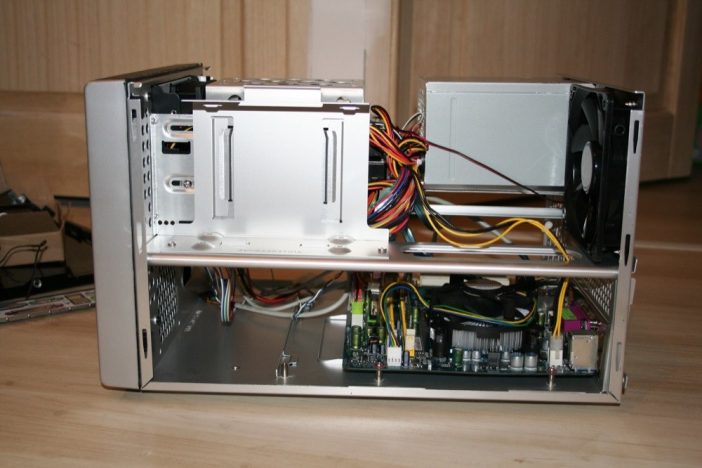 On voit ici la place qu'il reste en dessous des logements 5″ 1/4, qui permettra le stockage de disques durs supplémentaires plus tard.
Si je me base sur des disques dur de 1 To (les 2 To étant encore trop chers), ca permettra déjà de monter à 10 To de stockage, ce qui me laisse de la marge :D
L'assemblage se fait comme n'importe quel autre ordinateur, en prenant soin d'assembler d'abord la carte mère sur son berceau, car la compacité du boitier fait qu'elle est difficilement accessible après montage.