Tous les possesseurs de box domotique Fibaro attendent cette nouvelle interface V4 depuis … pas loin du début d'année, en fait ! Pour rappel, la  grosse nouveauté de cette interface est d'apporter le support des plugins, permettant d'ajouter d'autres appareils d'un simple clic (TV, Ampli HC, système d'alarme extérieur, etc…).
Bien sûr, cette mise à jour ne se résume pas qu'à cela: nous passons d'une V3.xxx à une V4 (enfin, V3.907 car nous sommes pour le moment en beta), autant dire qu'il s'agit d'une version majeure. Et c'est le cas, puisque la liste des modifications est longue comme le bras (en anglais, mais on va dérouler les nouveautés ensuite):
Drag & Drop for devices and scenes – available on home, devices and rooms screens. Assigning devices to rooms and changing its order is now much easier and faster.
Magic Scenes – new, simplified and easy to use graphical way to create scenes based on condition > action flow.
Temperature Panel – allows to see history of temperature changes in rooms and on each device.
Diagnostic Panel – general information about HC working condition like CPU & RAM usage, free space on hard drive. Will be extended in future versions.
New Z-Wave engine – redesigned and rewritten from the scratch. Now is faster and has better support for devices.
Z-Wave Door Locks support – controlling and PIN settings.
Thermostats – extended controlling for thermostats from manufacturers like: Honeywell, Trane Corporation.
Extended tamper for sensors – exclusive information for motion detection and violation of sensors.
Fibaro Smoke Sensor extended support – level of smoke and gap to alarm level is reported and visible on charts at iPad and Web Page. Sensitivity level is now easier to set.
Fibro Motion Sensor new device – when seismometer mode is turned on new device reporting tremors is available. Charts for temperature and illuminance. Additionally information about sensor violation.
Device hiding – device that is not in use can be hide without removing it.
Device deactivation – deactivated device is visible in UI but can't be controlled.
Multithreading added for HC (server and z-wave) – now engines work much faster.
Event panel moved – for better usability now is available in menu on right side of screen.
User rights management – moved to Configuration.
Block Scenes improvements – for device only available actions are visible, scene activation block added and logical conditions grouping using brackets.
Lua Scenes – updated tooltips for devices.

Plugins:
Plugins are grouped in categories: Safety, Cameras, Climate, Multimedia, Others
Plugins search
Network devices search via ARP

Plugins category Safety:
DSC Alarm – for DSC Alarms,
Helios Basic – integration using Basic license,
Helios Gold – integration using Gold license
Mobotix – for Mobotix videophone,
Satel Alarm – for SATEL

Plugins category Cameras
more than 100 devices from various manufacturers

Plugin category Climate
Carrier Furance
WS Davis Vantage

Plugins category Multimedia
LG Bluray
LG TV
NC + mediabox
XBMC Remote Control
Denon Amplifier
LG Bluray
Onkyo Amplifier
Philips Bluray
Pioneer Amplifier
Samsung TV
Sonos
Sony Bluray
Sony TV

Plugins category Other
Philips Hue
Wake on LAN

Other changes
Many other improvements to the system
J'avais testé la version alpha très rapidement, pour très rapidement faire marche arrière tellement l'alpha était buguée. A priori la beta devrait être nettement plus table, j'ai donc tenté:
Tout d'abord, une partie invisible mais qui a évolué: le moteur Z-Wave, qui a été totalement réécrit pour être plus rapide et mieux supporter les différents périphériques.
Ainsi, les serrures Z-Wave seraient mieux supportées, tout comme les thermostats Honeywell et Trane Corporation, notamment. Même certains périphériques Fibaro sont mieux supportés ! Comme le détecteur de fumée, qui est maintenant divisé en deux périphériques pour la détection de fumée et pour la température, et qui possède maintenant sa fonction "boite noire" avec le relevé du niveau de fumée (vierge ici pour l'instant):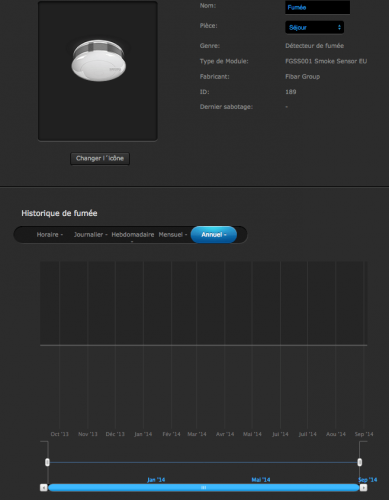 Ou encore le détecteur de mouvements, qui peut maintenant utiliser sa fonction sismographe: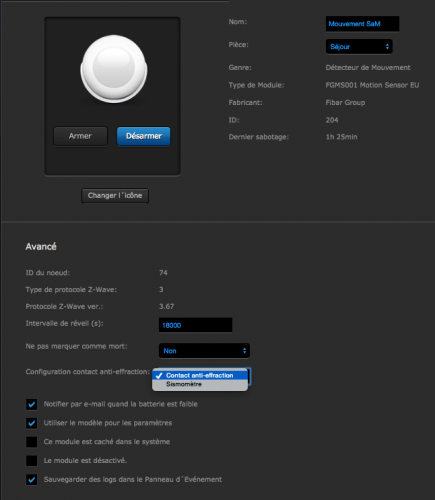 Au niveau de l'interface, pas de gros changement. Une partie plugin apparait dans le menu, c'est tout. Mais il existe quelques petits ajouts pratiques, comme la possibilité de glisser / déposer: on peut maintenant prendre un périphérique et le faire glisser à la position qu'on souhaite. Pratique pour organiser ses pièces comme on veut :D
Au niveau de la configuration des périphériques, il est maintenant possible de les désactiver, ou seulement les cacher. Pratique pour utiliser un périphérique dans des scénarios, mais qu'on ne veut pas voir affiché sur l'interface, par exemple: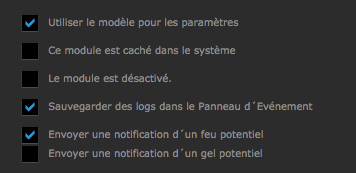 Autre nouveauté attendue depuis longtemps: le suivi des températures. Alors qu'il était possible d'avoir des graphiques sur la consommation d'énergie sur l'interface web, et un apercu du suivi des températures sur l'application iPad, aucun graphique n'était disponible pour la température sur l'interface web. C'est maintenant corrigé, nous avons les deux données:
La présentation des températures est identique à celle du suivi d'énergie, avec suivi dans le temps, et affichage du top 5: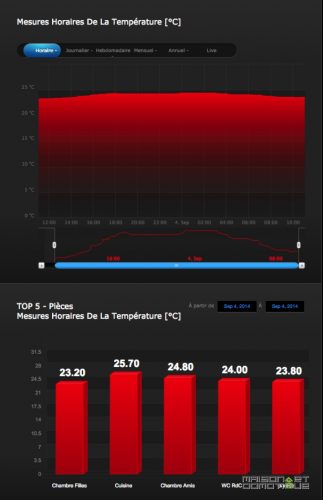 Le graphique sur le temps peut afficher sans problème les différents capteurs:
Point intéressant: même si les graphiques n'étaient pas disponibles, les relevés de températures étaient enregistrés sur la box, puisque les graphiques sont capables de m'afficher des données bien plus anciennes, datant d'avant cette mise à jour :D
Tant que nous sommes dans les graphiques, une partie diagnostic a été ajoutée dans le menu Configuration, affichant des informations sur la box, comme l'utilisation du processeur: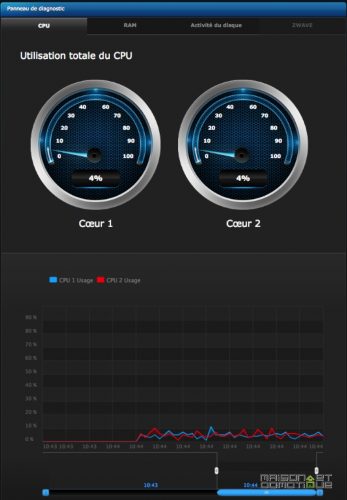 D'ailleurs, cette mise à jour ajoute le Multithreading, qui devrait rendre la box encore plus rapide, au passage ;-)
L'utilisation de la RAM:
Ou encore l'utilisation du disque dur. Pratique pour savoir où on en est, notamment sur l'utilisation du disque de sauvegarde:
Un dernier onglet "Z-Wave" est visible, mais pas encore accessible. Aurait on droit à une carte du routage Z-Wave ?? A suivre plus tard…
A propos du Z-Wave, une fonctionnalité pour les connaisseurs fait son apparition: la possibilité d'utiliser un contrôleur secondaire, voir même de transmettre le contrôle à un autre périphérique: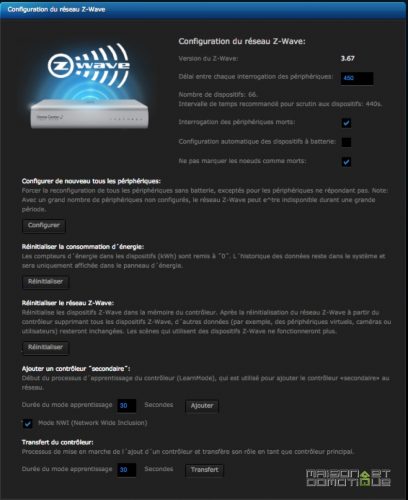 Pour la majorité des utilisateurs, l'onglet Plugins est sans doute celui qui était le plus attendu: il va permettre d'ajouter de nouvelles fonctions / périphériques (non Z-Wave) d'un simple clic. Les plugins sont rangés en plusieurs catégories: caméras, climat, multimédia, sécurité, et Autre:
La partie caméras est très bien fournie, avec 127 modèles différents !
La partie climat supporte notamment les stations météo Davis. Nous devrions voir apparaitre prochainement la station Netatmo, qui avait été annoncée dès le départ:
La partie multimédia permettra de piloter déjà de nombreuses TV, Lecteurs Blu Ray, et Ampli Home Cinéma connectés:
La partie sécurité ajoute le support de systèmes d'alarme extérieurs, comme par exemple DSC et Satel:
La partie "autre" contient pour l'instant un plugin pour les ampoules Philips Hue et la fonction Wake On Lan pour réveiller un ordinateur.
En cliquant sur un plugin, on accède à une présentation:
On notera la mention de "gratuit", ce qui laisse imaginer l'arrivée de plugins payants. Ca peut être une très bonne idée pour motiver les développeurs et obtenir d'excellents plugin, comme c'est le cas par exemple sur l'application domotique Homeseer, très riche en plugins de toute sorte.
Dans le cas du plugin pour les ampoules philips Hue, par exemple, il suffit d'un clic pour ajouter le plugin. Ensuite, le bouton "recherche" permet de trouver automatiquement l'adresse IP du Hub Philips. Une fois fait, après avoir appuyé sur le bouton du Hub, on clique sur "create user". Enfin, "start search" et toutes les ampoules Hue seront trouvées et créées sur l'interface.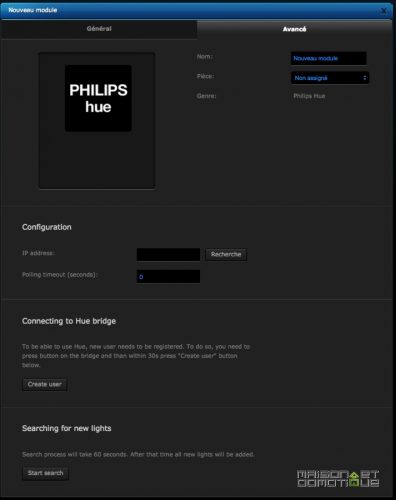 Bon, par contre les commandes sont ici très "ligth":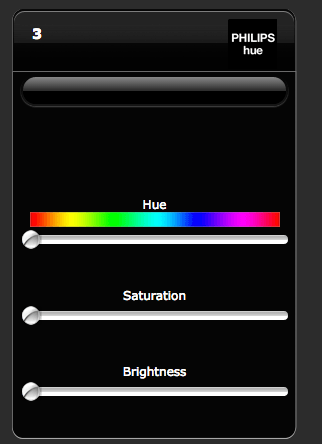 Pour l'instant, je préfère le script Lua qui permet de lancer des animations pré programmées…
Autre exemple avec ma TV Samsung:
Là encore, la HC2 trouve automatiquement l'adresse IP de la TV (qui doit être allumée avant). Cette fois, on a une télécommande très complète: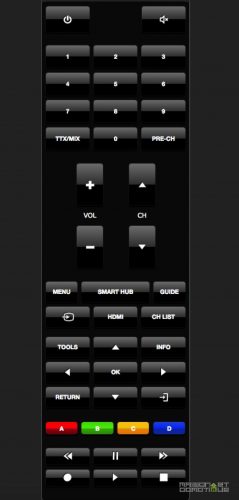 Les commandes fonctionnent parfaitement. On regrettera juste de ne toujours pas pouvoir allumer la TV par ce biais, mais ca c'est la faute à Samsung :/
J'ai également installé mon ampli Onkyo:
La télécommande proposée est très fonctionnelle également:
Bref, les plugins sont vraiment une super fonctionnalité ! Très simple à installer et configurer, ils vont ravir de nombreux utilisateurs. On a hate de voir ouvrir la création de plugins à nos talentueux développeurs pour avoir très bientot des choses très sympa :D
Enfin, dernière modification: les scénarios ! Nous avons en effet l'apparition des scénarios magiques :D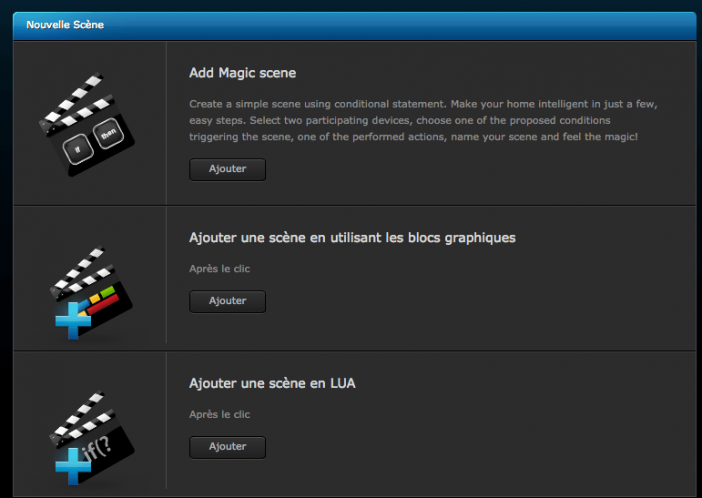 En fait il s'agit d'une nouvelle facon de réaliser des scénarios légers, très facilement, avec une simple condition "si" "alors", un peu à la facon du service IFTTT: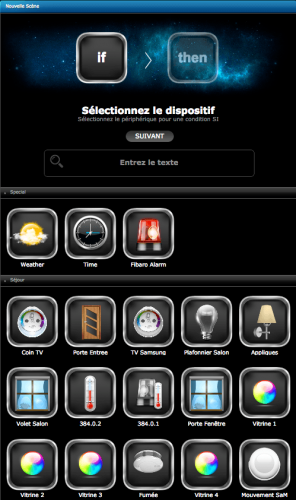 Il suffit de prendre l'icone du déclencheur qu'on souhaite mettre sur la condition "IF", puis de la faire glisser dans la case "IF". Un clic sur suivant nous amène aux options de la condition, par exemple sur un paramètre de temps: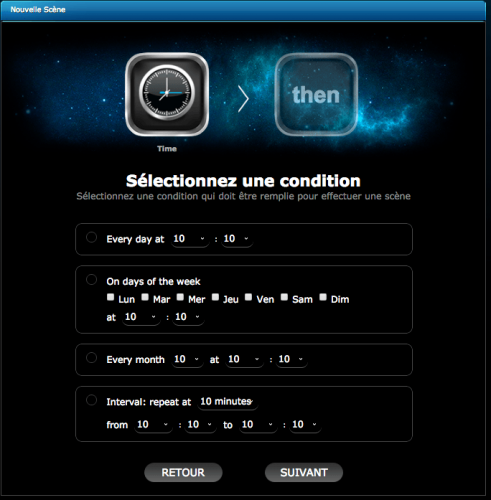 On recommence la même manipulation pour faire glisser l'icone d'un actionneur qu'on souhaite mettre dans l'action:
Et voilà, en quelques clics, très intuitifs, on peut facilement créer une scène.
Il reste bien sûr la création de scènes par blocs, ou encore via un script Lua pour les choses un peu plus élaborées, mais ces scènes magiques seront sans doute très appréciées des nouveaux utilisateurs qui découvrent la solution !
Voilà, nous avons fait un tour global de cette mise à jour. Alors, la question, maintenant, faut il l'installer ? Comme son nom l'indique, il s'agit d'une beta, avec son lot d'erreurs et de bugs. Elle fonctionne nettement mieux que la version alpha que j'avais essayé, il n'y a pas photo. Pour l'instant la plupart de mes scénarios semblent fonctionner correctement. J'ai toutefois quelques problèmes avec certains modules: des périphériques qui sont marqués comme "morts", car injoignables, alors qu'ils fonctionnaient parfaitement avant. Ce n'est pas un problème de "polling", puisque ca m'arrive même sur des wallplug Fibaro, connectés au secteur, donc :/ Et j'ai deux autres périphériques qui sont ne sont maintenant plus reconnus, avec une icone Z-Wave bizarre… On se rapproche donc à grands pas de la version finale, mais il reste encore quelques petits bugs à corriger. Si vous faites la mise à jour, il faut le faire en connaissance de cause. Après, rien ne vous empêche de tester, et revenir en arrière ensuite en faisant un reset et en restaurant une ancienne sauvegarde.
Si vous testez, n'hésitez pas à laisser vos remarques et vos impressions en commentaire, je suis intéressé par votre avis !