Cette année, au CES de Las Vegas, Netatmo ne s'est pas tant fait remarquée pour ses produits que par ses nouveaux partenariats. En effet, la société francaise s'affichait aux côté d'une autre grande société francaise: Legrand.
Sur le stand, il était en effet possible d'apercevoir des interrupteurs Celiane, qui paraissaient tout ce qu'il y a de plus classique au premier coup d'oeil: gestion de l'éclairage, pilotage des volets, prises électriques, etc…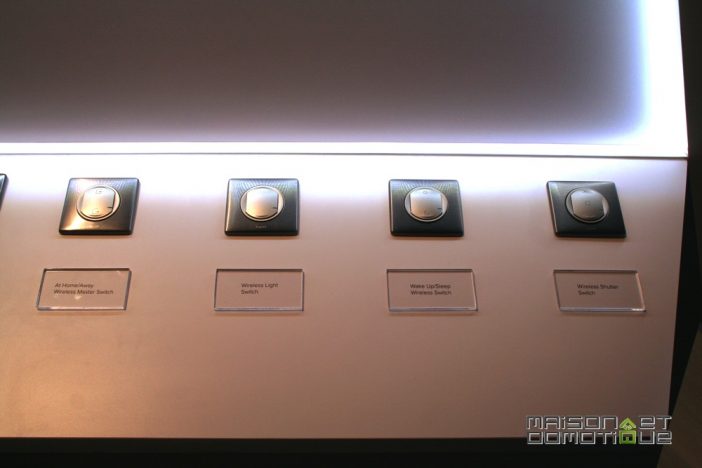 Mais une drôle de sphère constituée de polygones, sortant de l'une des prises, nous a interpellé: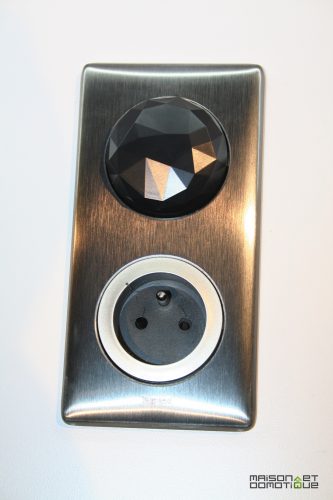 Cette "sphère" noire, intégrée dans une platine avec une prise électrique à ses côtés, est en fait une passerelle, une sorte de box domotique si on peut dire. La grande originalité ce celle ci, est son intégration dans une plaque Celiane: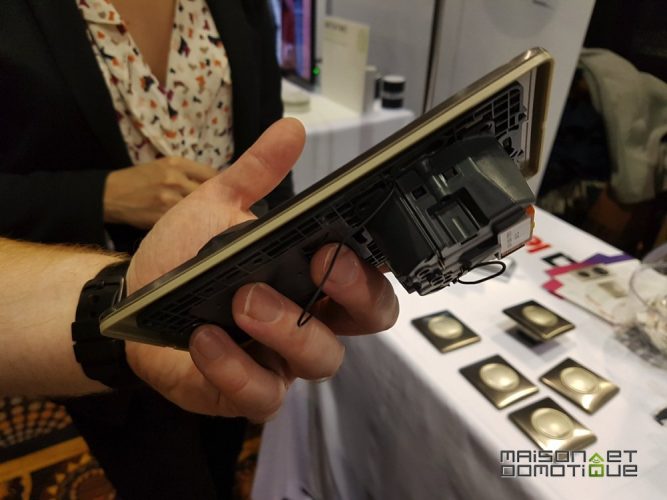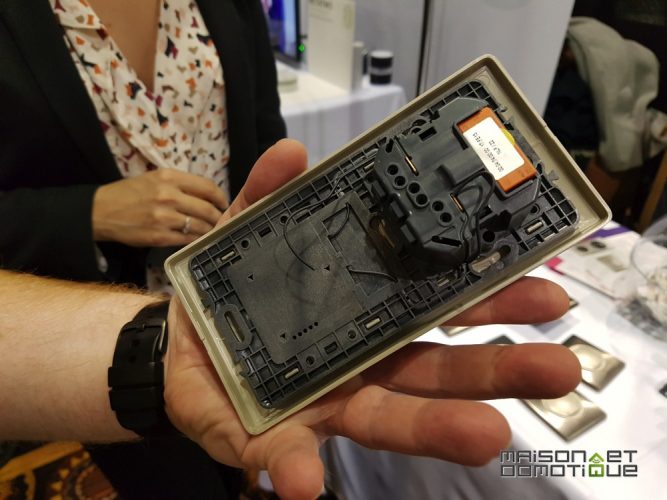 Le concept est plutôt intelligent: prenez n'importe quelle prise électrique chez vous, et remplacez la par cette plaque. Vous conservez une prise électrique, mais ajoutez par là même une box domotique, alimentée par la platine, et ne nécessitant aucun autre fil. Pas de prise utilisée comme avec les nombreuses passerelles existant aujourd'hui (passerelle Philips Hue, passerelle Logitech Pop, passerelle MyFox, etc…), aucun trou non plus à faire dans le mur, et pas de box qui traine dans la maison.
L'installation a été simplifiée au maximum, puisqu'elle peut s'effectuer en 5s: il suffit de couper le courant, d'appuyer au centre de l'interrupteur, une Led bleue clignote alors, puis de remettre le courant. Les périphériques vont alors s'intégrer dans le même réseau ZigBee (v3) et se parler entre eux. Netatmo et Legrand ont également mis au point le «taptaptap» pour faciliter la vie de l'utilisateur: tapoter trois fois un interrupteur suffit pour l'appareiller avec un autre. Pas de manipulation compliquée. Exemple, si vous n'avez pas d'interrupteur à la tête du lit, pratique quand on se couche: il suffit d'appuyer au centre de l'interrupteur sans fil, une Led clignote, on tape sur son interrupteur câble installé à l'entrée de la chambre, l'interrupteur sans fil peut désormais allumer et éteindre la lumière. Pas plus difficile que cela !
Cela permet de créer des va et vient, placer un interrupteur là où il y en a besoin, ou encore créer une commande centralisée très facilement, sans passer aucun câble.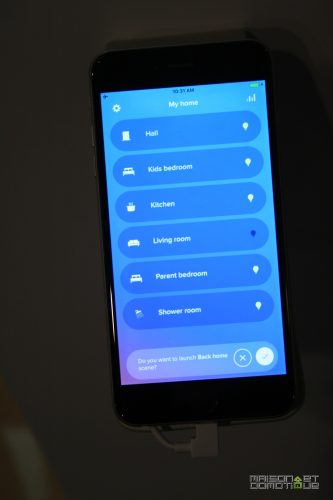 Cette installation peut également être pilotée à distance grâce à l'application Home Control, qui se veut intuitive: son interface représente en effet la maison de l'utilisateur. Chaque pièce ainsi que ses équipements électriques y sont représentés. Pièce par pièce, il est alors possible de :
simuler une présence dans sa maison
contrôler à distance ses lumières, ses volets roulants et ses appareils électriques pièce par pièce
consulter sa consommation d'énergie, instantanée ou cumulée
activer et personnaliser les scénarios programmés (1 – je me lève, 2 – je pars de la maison, 3 – je rentre à la maison, 4 – je vais me coucher)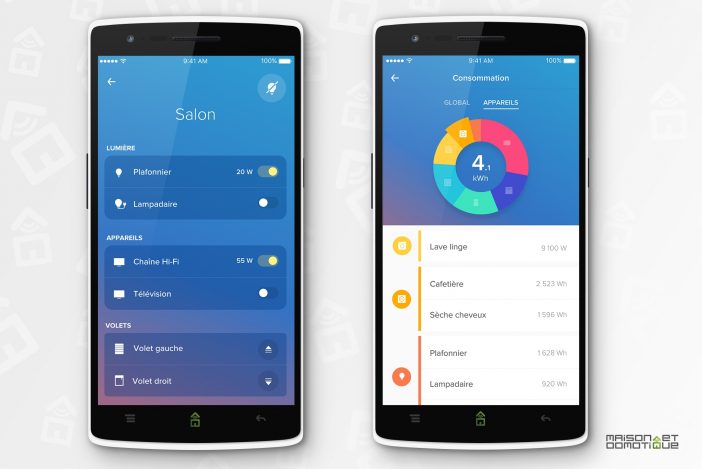 Compatible avec Apple Home Kit, la maison pourra donc également être pilotée à la voix, avec Siri, mais aussi Google Assistant ou encore Amazon Echo. Selon Legrand, la diffusion de la commande vocale devrait en effet contribuer à une adoption plus rapide par le grand public de ces produits connectés.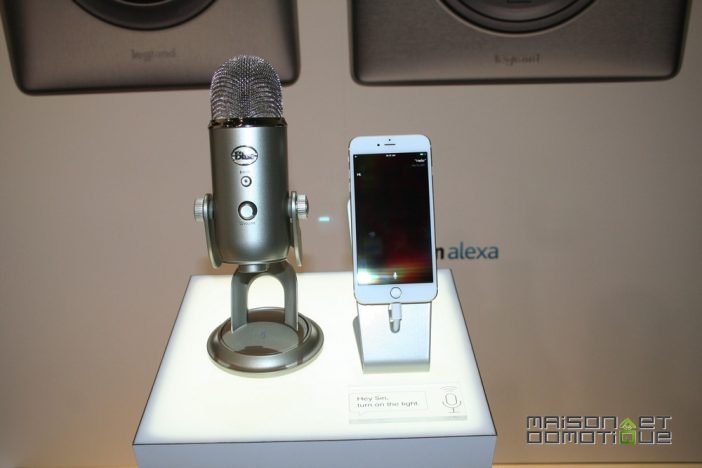 L'offre, constituée d'interrupteurs sans fil et d'une prise intelligente, capable de suivre la consommation électrique des appareils branchés dessus, sera également compatible avec les autres offres du programme Eliot (comme le portier Classe 300 connecté par exemple) et avec d'autres plateformes d'interopérabilité, en particulier le Hub Numérique de La Poste, de Samsung (ARTIK) et d'IFTTT. Legrand collabore également avec Nest autour du protocole de communication Weave.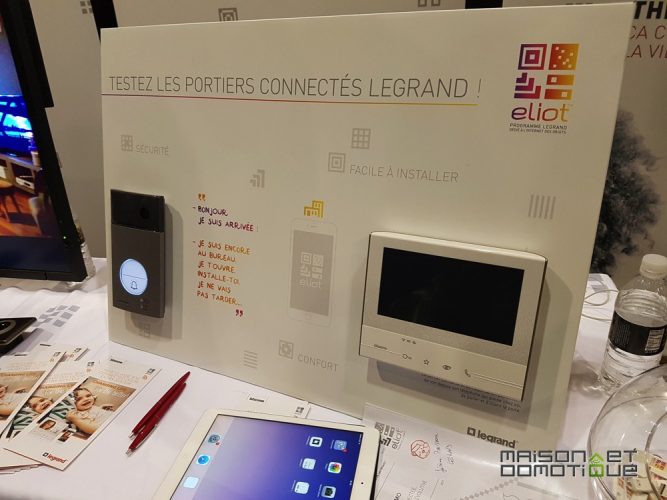 Legrand a voulu une solution simple à installer et à utiliser, et également abordable financièrement. Ainsi, le pack de démarrage sera disponible à partir de 189€, et chaque produit ou pack supplémentaire pourra être acheté séparément (via les installateurs, dans les enseignes de bricolage, en ligne) et installé très rapidement. L'utilisateur peut donc équiper au fur et à mesure sa maison, dans un bâtiment neuf ou déjà équipé, selon ses envies et son budget. Les packs peuvent être combinés les uns aux autres, pour personnaliser sa maison et son installation. Céliane with Netatmo fait partie de Céliane, la gamme d'interrupteurs et de prises de courant n°1 en France et en reprend ses codes esthétiques: elle est déclinée en plusieurs couleurs et matières (blanc, titane et graphite), pour une intégration parfaite dans chaque intérieur. On compte ainsi 10 références CélianeTM with Netatmo en pack et 15 références à l'unité, disponibles en trois couleurs.
Enfin, des packs seront également disponibles. Par exemple:
Le pack "Créer un Va-et-Vient", qui permet d'obtenir un deuxième interrupteur sans tirer de fil et sans faire de trou dans les murs. Disponible à 119€.
Le pack 6 prises connectées, qui permet de contrôler à distance et de mesurer la consommation de 6 prises de courant. Disponible à moins de 699€.
Le pack logement connecté, qui pack permet de connecter les fonctionnalités " éclairage " et prises. Disponible à moins de 1 249€.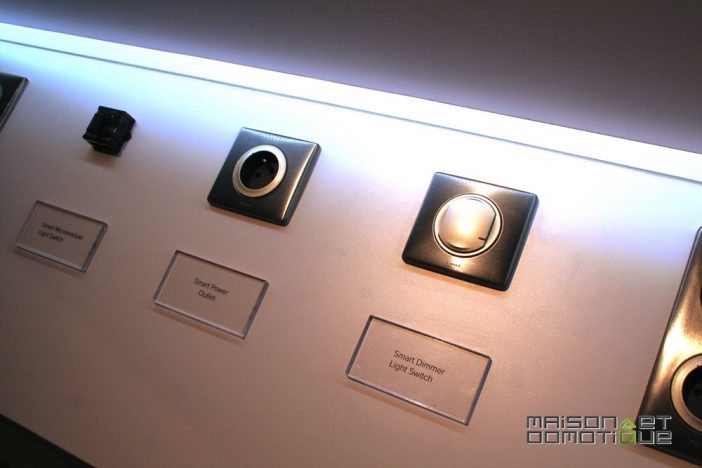 L'offre est plutôt séduisante et bien pensée. D'ailleurs elle a été récompensée dans 2 catégories au concours «CES Innovations Design and Engineering Awards 2017» : «Smart Home» et «Home Appliances».
Son lancement commercial est prévu d'ici la fin d'année 2017.